Fishing
With it's long coast line Dalane has built a close association with the sea and the harvesting of its resources. Sports-fishermen from Europe have discovered just how good the catches can be in Dalane. In addition to the superior seafishing facilities some of Norway's best salmon-rivers run through the area.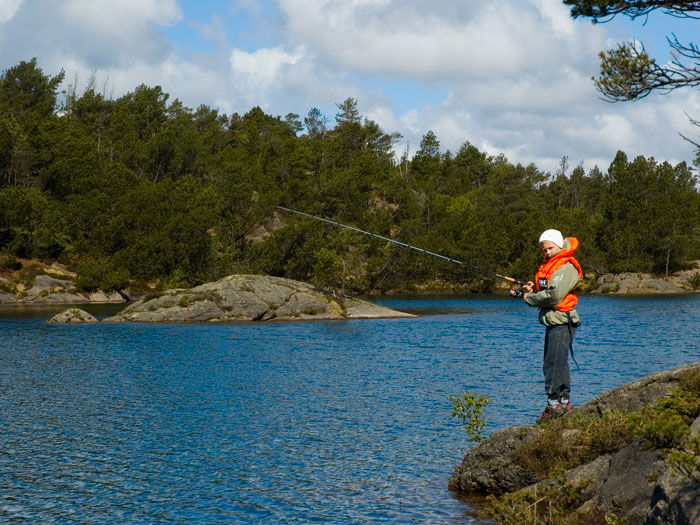 Fisking i Vannbassengene
Salt Water Fishing
Egersund has one of Norway's largest fishing ports with larg fishing-banks located just off the coast. Sea-fishing in Norway is unrestricted and there are plenty of opportunities to try your luck from land or boat. If you want to get quick access to excellent fishing spots from land then Stapnes is a good starting point. Boat rental can be arranged from Egersund, contact the tourist information.
The most common catches in Norway are cod, mackerel (especially in the late summer), salmon, trout, coal-fish and pollack Whilst fishing in the sea is open to all, you should keep your distance from river moths. More information can be obtained from the local tourist offices.
Salmon and fresh water fishing
Dalane is justifiably proud of the qualitiy of its fresh water fishing. The salmon-river "Tengselva" is widely known, catches being very good! Fishing here is restriced, but land owner may be able to sell you a spot in the river for a shorter period. If you prefer trout fishing, then try the many lakes along highway 504. Just wanting to look – then take a trip to Tengs and watch Salmon hop the water falls.
In-land fishing
The lakes and streams of Dalane whilst varying in size all have stocks of trout, some offer eel.
Sports diving
Clear water – 20 to 40 m – wrecks and a huge variation in marine life make the diving along the coast of Dalane some of the best in Europe! Particularly recommended are areas out from the lighthouse on Eigerøy, Nesvåg, Bu in Jøssingfjord, Mong and Nålaugvika.