Where to sleep and eat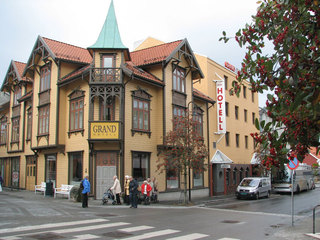 In Egersund you'll find multiple options for accomodation. There is one hotel in town - Grand Egersund, located at the very center. The hotel is part of De Historiske, a historical hotel concept in Norway and has good capacity.
In addition to that, you'll find an apartment hotel Bøe right in Strandgata. If you prefer a camping experience, you can choose between Hauen and Steinsnes. Alternatively, you can look for cabins and private appartments, that are increasingly available at private accomodation sites such as AirBnB.
Where to eat
A selection of eating places in Egersund is also quite wide. There are couple of pizzerias (Mamma's, Mammarosa, Pizzabakeren), local food (Hauen Kro, Grand Restaurant), indian (Little India), asian (Peking House), Kniv & Gaffel and others. Some of these places offer sitting outside at the warmer part of the year.
For more information and updates, check VisitEgersund.no
Opprettet 16. mars 2017 av Sem Hadland.