Warning of torrential rains and flooding
Norwegian Water Resources and Energy Directorate (NVE) and The Norwegian Meteorological Institute (MET) has issued a warning about torrential rains and flooding (level yellow) for Eigersund from Friday to Friday night.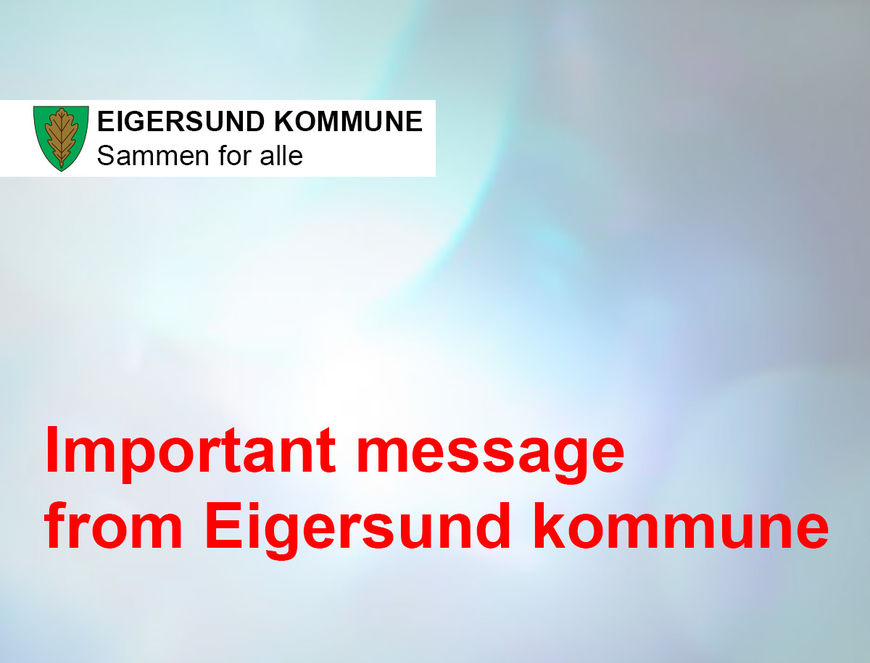 NVE and MET have issued a warning of flooding (level yellow) for the counties of Agder, south-Rogaland, Telemark, Vestfold and Buskerud.
Very heavy rainfall is expected in a short period of time during Friday and Friday night. We can anticipate 30-40 mm of rain per 3 hours, over 50-70 mm of rain per 12 hours in the southernmost areas, and a little less further north. For more information: http://www.varsom.no/flom-og-jordskredvarsling/?date=2018-09-07
A rapid increase in water volume is expected in small rivers. Regulations will in some cases control the flooding, and this warning will not necessarily apply to all regulated river basins.
See the entire message at www.varsom.no/Egersund
Weather forecast for Eigersund (Rogaland) from www.yr.no
Contingency information from Eigersund kommune:
When the municipality receives a warning of extreme weather, flooding, etc. from the County Governor of Rogaland, this warning is posted on our webpage, and also sent out by e-mail through the newsletter Beredskap (for those who subscribe to «Beredskap»). Information is also posted on Eigersund kommune's facebook-page www.facebook.com/eigersund Information is sent out on Twitter at @EigersundK. Hastag #EKberedskap
If you want to receive contigency information/updates, you kan subscribe to the newsletter «Beredskap», like us on Facebook and/or follow us on Twitter.
Updated information from www.varsom.no about Eigersund kommune
Updated information about Eigersund kommune can be found at the webpage www.varsom.no, a service provided by NVE, together with MET, Norwegian Public Roads Administration and Norwegian National Rail Administration. Varsom.no is your source for messages of natural hazards in Norway. You can subscribe to these type of messages (SMS and e-mail).
Information of the different flood levels.
More information about the levels can be found by following: ulike aktsomhetsnivåer for flom- og jordskredvarsling på nettsiden www.varsom.no om dette.