Operation Freshman, Halifax B burial site
A few days after the Halifax tug aircraft crashed on Hestafjellet, the Germans tried to bury the bodies on the mountain plateau by scraping off a thin layer of moss and heather. However, they quickly encountered solid bedrock and abandoned this attempt. They then decided to dig a grave in boggy ground just below the plateau. Shortly afterwards, a local farmer Martin Sandstøl, was up by the wreckage and found another body between some rocks. He then informed the Germans that there was still one of the Halifax aircrew who was not yet buried.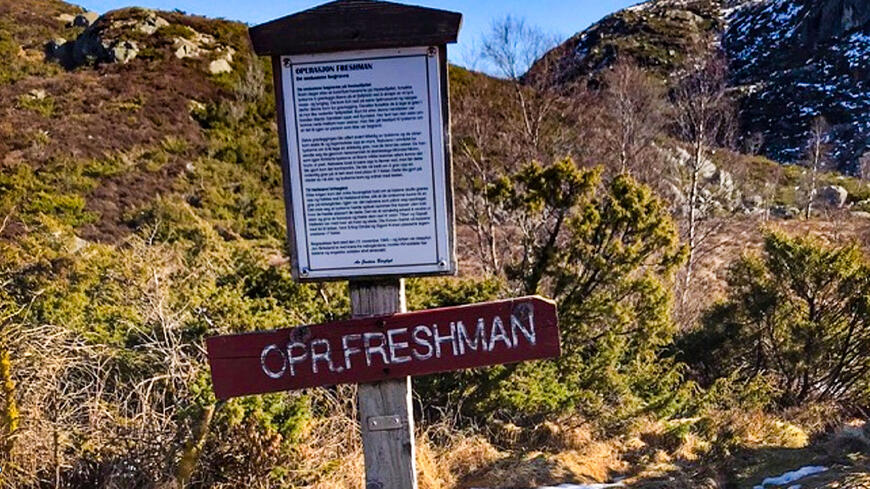 More on Operation Freshman
Halifax B crash site
Halifax B burial site
Glider B crash site
Execution site
Memorial camp, Slettebø
The actual burial site
The actual burial was carried out very casually by the Germans and when spring came, corpses and body parts could be seen protruding from the bog. The local Norwegians made a request to the Germans that a proper grave be dug, a request which was at first refused. They then contacted the District Doctor, Münster Mohn, via the Lensmann (sheriff), who explained to the Germans that the bodies had to be cremated or a plague could break out. The locals offered to supply and transport sufficient wood to the site to carry this out, but before this was done, a counter-order came. The Germans requested that a proper grave be dug in a dry place with room for 7 coffins. This was carried out at the place where you now stand and the Germans came and arranged the rest.
To Helleland cemetery
After the war, orders came from the British authorities that the coffins should be exhumed and transported down to Helleland churchyard, so that the dead could be buried in the cemetery there. Again, it was local Norwegians who took on the task. When opening the grave, they discovered that the Germans had nailed together four boxes without lids into which they had placed the bodies. It was hard work clearing the stones and gravel out of the boxes! Tillert and Sigvalt Helleren, each with a horse and sled, then transported the boxes down to the road where Ola Kvinen then drove them to the church. Erling Omdal and Sigurd Kvinen then placed the remains of the bodies in 7 coffins.
The burial took place on November 21st 1945, and the church was packed with people. Jon Birkeland laid a wreath from the neighbouring farms, Norwegian soldiers carried the coffins and English soldiers stood guard of honour.
Original Norwegian text by Jostein Berglyd. English translation and minor modifications by Bruce A. Tocher.